What is a Transformational Culture?
A Transformational Culture is a culture which is fair, just, inclusive, sustainable, and high performing.
A Transformational Culture is one which embraces diversity, promotes learning, encourages accountability, and drives engagement. This is not a soft option. It is about securing hard business outcomes, driving up productivity and creating a high performing workplace where individual, team and organisational objectives can be met, and exceeded. David Liddle's bestselling new book, Transformational Culture, is available to purchase now. Please click the image below.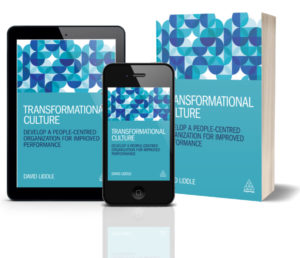 The main thrust of a Transformational Culture to help organisations to shift from a retributive justice model to a restorative model. There is a real desire to change and this is palpable. Retributive justice is deeply ingrained in our organisations systems and psyches. It is binary, polarising, and adversarial. It is the kind of justice we see in the courtroom, the kind of justice that creates winners and losers and which is so focussed on rights that it overlooks the deeper needs and interests of the parties. It is the kind of justice that is driven by a desire to blame and chastise the wrongdoer for making a mistake, that suppresses innovation, impedes creativity and engenders a climate of fear and division which ultimately destroys good working relationships and undermines organisational effectiveness.
By aligning employee experience with customer experience, a Transformational Culture underpins a happy, healthy and harmonious workplace culture. This in turn creates a higher level of engagement, wellbeing and productivity. Ultimately, A Transformational Culture drives growth, adds value and reinforces competitive advantage.
The Transformational Culture Model™ – common sense, pragmatic and highly-effective.
Our award winning Transformational Culture Model (TCM) is a tried and tested framework used by HR professionals, line managers, union reps, lawyers, employees, and many others as a blueprint for new form of organisational culture – a Transformational Culture. Please see the image below for more details
TCM: 20 years at the cutting edge of cultural transformation
For the past 20 years. TCM has been working with numerous blue-chip companies, public sector organisations and small and medium sized enterprises (SME's), to support them as they integrate and deploy alternative means for resolving complaints, concerns and conflicts. The primary focus of our approach has been on promoting dialogue and enhancing the role of mediation and restorative justice (RJ); processes which we believe deliver better outcomes for everyone concerned.
These approaches are predicated on some simple principles:
Adult to adult dialogue
Mutual respect
Psychological safety
Openness and transparency
If you would like to integrate a Transformational Culture in your organisation, or you are curious about this new approach, please contact us now.