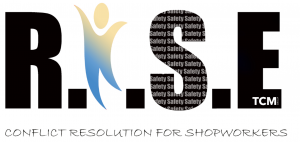 RISE: Retailers Investing in a Safer Environment.
The RISE Programme™ has been developed in partnership with The Safer Business Network, The Metropolitan Police and the British Retail Consortium (BRC). The aim of RISE™ is to assist retailers, shop-workers, security personnel and door supervisors to reduce the incidence and threat of conflict, abuse, violence and theft. In two recent reports, The BBC identified a doubling of violence against retail staff and a report from USDAW suggested that there are around 265 assaults carried out against shopworkers each day.
Paddy Lillis – Usdaw General Secretary explains: "Violence, threats and abuse against workers are amongst the great scourges of our society. The statistics are shocking and show that urgent action is required. Many UK workers are on the frontline of dealing with the public and that can mean they end up on the wrong side of a verbal or physical assault."
Managing Conflict. A practical guide to resolution in the workplace (Kogan Page/CIPD)
David Liddle's new book, Managing Conflict (CIPD/Kogan Page), provides numerous toolkits and checklists to help employees, managers and HR to resolve conflict constructively and to de-escalate difficult situations. It includes case studies from Tesco, Arcadia Group, The Metropolitan Police, Capgemini and many, many others.
'David Liddle has written an incredibly useful book that shows how to measure the costs of conflict in any workplace, and how to prevent and resolve it.  It is insightful and immensely practical, and I recommend it highly.' Kenneth Cloke, best selling author and thought leader. 

Trending at TCM
You may also be interested in this additional resources.